SUPRA CARBON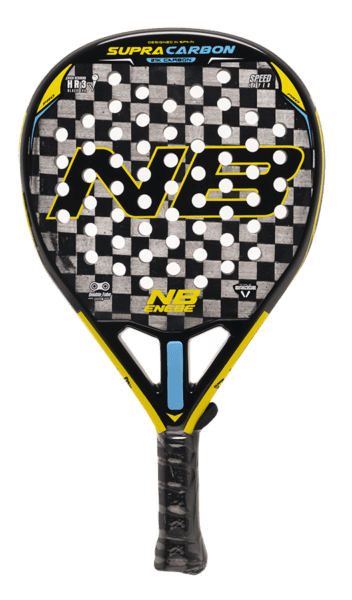 SUPRA CARBON
PROFILE: 38 MM
CORE: FOAM HR3 EVA SOFT
MATERIAL: SILVER CARBON 21K
WEIGHT: 360 – 375
SHAPE: TEAR
__________________________
CONTROL
🔵🔵🔵🔵🔵🔵🔵🔵🔵🔵
POWER           
🔵🔵🔵🔵🔵🔵🔵🔵
BALL OUTPUT
🔵🔵🔵🔵🔵🔵🔵🔵🔵🔵
TACTO: MEDIUM
BALANCE: MEDIUM
Description
Here we have the racket that can break with the current padel schemes. With a design that will not leave anyone indifferent, we present the Ferrari of the paddle tennis courts.
The Supra Carbon features 21K silverblack carbon, giving you a stronger structure and greater hitting power. The double carbon tubular also offers more consistency, and makes it a racket with excellent durability. Its core is made of EVA HR3 HIGH REBOUND foam. This is a SOFT foam with fast recovery, a material that provides the best cushioning when hitting. In addition, their faces have been manufactured with one of the best carbons on the market with a magnificent resistance and a lot of sweetness in the touch. Triple System
Bridge with built-in anti-vibration rubber that makes it one of the strongest and least damaging blades on the market. Let your imagination fly when you have this shovel in your power.